Puppies
Here is a link to my paypal account for deposits. Please let me know the puppy that you are paying a deposit for. My email address is: crosscreekbrittanys@gmail.com
To let me know more about you, please fill out and email me the puppy Questionnaire -- Puppy Questionnaire .doc
We will start training the puppies at three days of age using a military developed system that is designed to increase performance and the ability of the dog to "fit" into family life.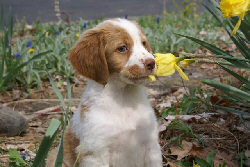 A Taste of Spring
Puppies Available:
Please contact me for upcoming litters.
---
---
SOLD
---
Deposits paid on puppies are non refundable unless the puppy dies while in my care or becomes seriously ill..
Here is a link to my paypal account for REMAINING BALANCE DUE. Please let me know the puppy that you are paying a for. When you get to paypal, put the remaining balance in as the amount.
The purchaser does not pay sales tax or use tax to the seller. The purchaser still has a tax responsibility and will pay any tax owed on his or her annual federal or state, including Indiana, tax return.
You can email me at crosscreekbrittanys@gmail.com
Phone: (812) 941-1716