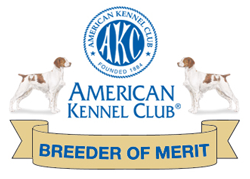 Breeding AKC sporting dogs
for over 30 years
Available Puppies:
GCH Sanbar's Ride the Winds "Harley" went Best of Breed at the 2017 Westminster Kennel Club show Feb 2017. He is owned by Bob, Polly and Carolyn West and Wayne Pepin.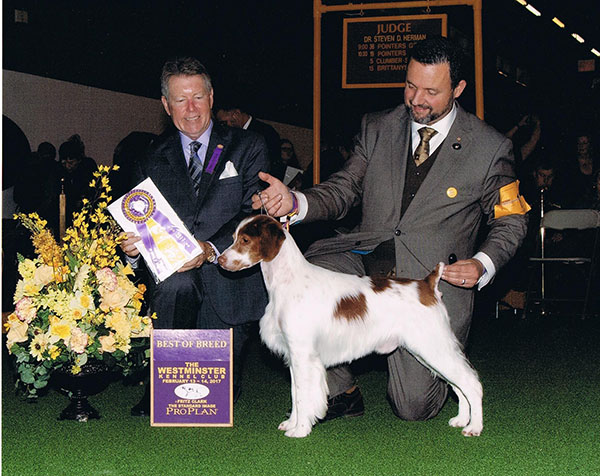 October 24th, 2015. We WON THE NATIONAL OPEN GUN DOG CHAMPIONSHIP with Chief.
Only one dog a year get the coveted title. His name now is NGDC GFC DC Hope's Chief of Cross Creek. 
2015 Magnum's Masked Man Award


NGDC GFC DC Hope's Chief Of Crosscreek
owned by Barb & Wayne Pepin, Bob & Polly West, handled by Bob Burchett
2016 ABC Garmin Shooting Dog Award
Please join me in congratulating Wayne Pepin, Barbara Pepin, Robert West and Polly West owners of NGDC GFC DC Hope's Chief of Crosscreek, in winning the 2016 Garmin Shooting Dog Award. Under the guidance of Bob and Valerie Burchett, Chief placed in 5 of the 20 Open Shooting Dog hour events that made up this year's award program.
Ch. Hope's Ranger Rick, owned by the Pepin's was bred to Sanbar's Crosscreek Play by Play and produced a litter of 9 puppies for Judy Tighe. Ricky, the sire, goes back to Carolina Ranger and the Microdot line while the female's side goes back to the 2000 National Gun Dog champion, Hope's Dandi Don. The only female in the litter was retained and went on to finish her show championship.
A portrait of Chief, by artist Andrea Howell of Culloden, GA, will be presented to the owners during the Garmin award dinner at this fall's National Gun Dog Championship in Ionia, MI.
Thanks to everyone that participated in this year's Garmin Shooting Dog events and best of luck in the coming season. The final tabulation of points for all dogs placing in the 2016 program can be found on the ABC website.
Kent D. Patterson
Garmin Shooting Dog Award Coordinator
"We Hunt Our Show Dogs"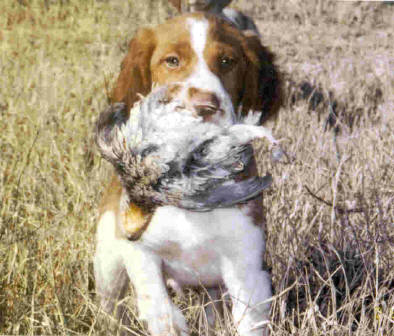 Ch Cross Creek's Irish Manlicher
This is a picture of "Manny" at three months old retrieving a quail to hand at the Hoffman Field Trial in Hoffman, NC.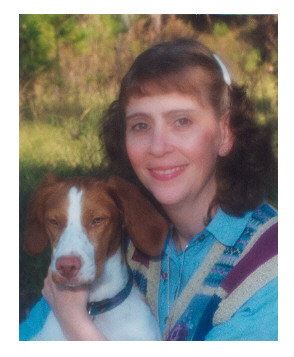 About Me: I graduated from Texas A & M College of Veterinary Medicine in 1985 and have worked with small animals and horses since then. I operate a house call practice, perform relief work at a local clinic, and work at the Harrison County Animal Shelter. My husband was in the Air Force and as we were stationed all around the world, I accumulated licenses in seven different States and worked in England and Korea. I am an active member in State and National veterinary medical associations, a member of the Society of Theriogenlogy, and a member of the Academy of Excellence. I am active in the American Brittany Club and volunteer as their show veterinarian at the Nationals in Arkansas every November.

My love is my show/field dogs. I first became interested in showing dogs in 1978 and acquired an English Setter which we showed to his Championship in 1982. I showed at Cruft's in England in 1990 and 1991. I switched to Brittanys in 1998 because I found their temperament to be more stable and more family oriented. We are now active in both the show ring and at the field trials as our focus has become oriented toward dual dogs. A Dual Champion has earned a championship in both the show ring and at field trials. Our goal is to improve the breed and to have them do what they were originally bred to do: be a family dog and hunting companion.
You can email me at crosscreekbrittanys@gmail.com
Phone: (812) 941-1716