Breeding AKC sporting dogs
for over 30 years
Available Puppies:
We are expecting a litter at the end of Jan
Adult Available:
"Magic" is a 4 1/2 year old white and orange spayed female Brittany that is looking for a new home. She is up to date on her vaccinations, heartworm neg, microchipped, OFA good and DNA profiled. She just had a dental so she should be maintenance free. She is very sweet and a mellow girl. She comes from very strong hunting lines and has placed at field trials as a puppy. Her real name is Margo Crosscreek Moment of Magic. Go to puppy page for pictures
"We Hunt Our Show Dogs"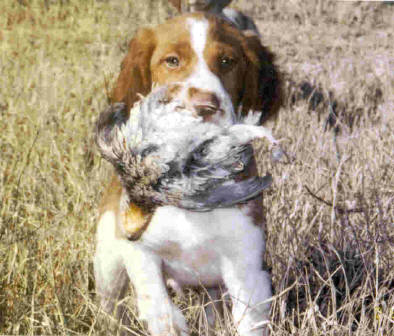 Ch Cross Creek's Irish Manlicher
This is a picture of "Manny" at three months old retrieving a quail to hand at the Hoffman Field Trial in Hoffman, NC.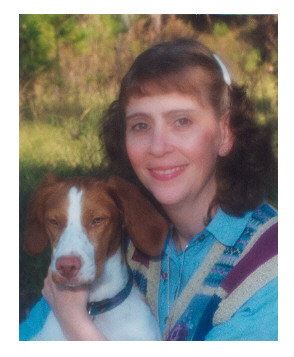 About Me: I graduated from Texas A & M College of Veterinary Medicine in 1985 and have worked with small animals and horses since then. I operate a house call practice, perform relief work at a local clinic, and work at the Harrison County Animal Shelter. My husband was in the Air Force and as we were stationed all around the world, I accumulated licenses in seven different States and worked in England and Korea. I am an active member in State and National veterinary medical associations, a member of the Society of Theriogenlogy, and a member of the Academy of Excellence. I am active in the American Brittany Club and volunteer as their show veterinarian at the Nationals in Arkansas every November.

My love is my show/field dogs. I first became interested in showing dogs in 1978 and acquired an English Setter which we showed to his Championship in 1982. I showed at Cruft's in England in 1990 and 1991. I switched to Brittanys in 1998 because I found their temperament to be more stable and more family oriented. We are now active in both the show ring and at the field trials as our focus has become oriented toward dual dogs. A Dual Champion has earned a championship in both the show ring and at field trials. Our goal is to improve the breed and to have them do what they were originally bred to do: be a family dog and hunting companion.
Deposits paid on puppies are non refundable unless the puppy dies while in my care or becomes seriously Ill.
You can email me at crosscreekbrittanys@gmail.com
Phone: (812) 941-1716